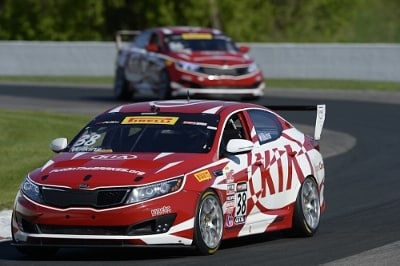 IRVINE, Calif., June 24, 2015 /PRNewswire/ -- Kia Racing is no stranger to the winner's podium at Road America in Elkhart Lake, Wisconsin, having scored a pair of victories last season with then teammates Mark Wilkins and Nic Jönsson. That weekend's triumph paved the way for Kia to win the 2014 Pirelli World Challenge (PWC) Grand Touring Sport (GTS) Class Manufacturer Championship. This year, the team returns to America's National Park of Speed looking for a repeat of last season's success but also looking to make up ground in the title chase. Defending champion Kia sits third, ahead of Porsche, Chevy and Nissan, but trails Ford and Aston Martin as the series approaches the halfway point.
"Obviously, we've had a lot of success at Road America in the past, scoring wins, podiums, qualifying fastest and posting the fastest lap of the race, and we should have a strong race car again this year," said driver Wilkins, who started from the pole here last season. "As the only front-wheel-drive cars in a field of rear-wheel-drive muscle cars and sports cars, however, our challenge is being quick enough at the start to stay in contention but not running so hard that we use up our front tires before the end of the race."
While expectations remain high within the team, changes to the PWC racing format for 2015 – which have separated the GTS vehicles from the faster Grand Touring (GT) class entries – have proved challenging for team engineers and drivers alike. With fewer cars on-track and a decreased speed differential among the field, races involve longer green-flag runs and fewer full-course cautions to help keep the front tires cool. As a result, races that used to be all-out sprint races for 50 minutes now involve a complex calculus as the Kia Racing team balances speed and longevity.
Clucas, in the No. 36 DonorsChoose.org Optima turbo, will make his first start in a Kia at Road America this weekend, but he has raced on this track before, in 2011 when he drove for Kinetic Motorsports in the Continental Tire Sports Car Challenge in a BMW M3.
"I'm looking forward to some practice laps at Road America and getting settled in the Optima. I've been preparing for this race on my simulator at home and feel like I know the track very well," said Clucas. "That said, I know tracks change over time – the surface, visual reference points, and all the things you once used to help navigate, may not be the same so it all boils down to turning some laps and getting myself reacquainted. And, as Mark said, outright pace isn't the only factor. We'll have to manage our tire wear in order to be able to fight for position at the end of the race."
In addition to the factory-backed GTS Optimas at Road America, Kinetic Motorsports' privately entered Kia Forte Koups in the Touring Car A (TCA) class will be on-hand for the weekend. Defending driver champion and 2014 rookie-of-the-year Jason Wolfe, in the No. 36 Richard Wolfe Trucking Kia Forte Koup, scored two podium finishes at Canadian Tire Motorsports Park (CTMP) and returns to Road America atop the TCA driver standings.
Meanwhile, rookies Kris Wright, in the No. 34 Wright Automotive Kia Forte Koup, and Samantha Tan of Gormley, Ontario, Canada, in the No. 38 Gum Products International Kia Forte Koup have acclimated to the series, the Kinetic team and their new mounts, and both came close to clinching their first podiums at CTMP.
GTS round nine of the PWC at Road America takes place Saturday, June 27, at4:40 p.m. ET. Round 10 begins Sunday, June 28, at 12:10 p.m. ET. Tape-delayed televised coverage of the GTS doubleheader weekend will air on the CBS Sports Network Wednesday, July 8, at 9 p.m. ET.
TCA round seven takes place Saturday, June 27, at 9:10 a.m. ET; round eightSunday, June 28 at 9:40 a.m. ET; and round nine later that day 5:15 p.m. ET. Televised coverage of the TCA tripleheader will air on Wednesday, July 8, at 7 p.m. ET. Live-streamed coverage of all PWC races is available online at www.world-challengetv.com, and race fans can keep up-to-date with the Kia Racing team via the Kia Motors America Facebook and Instagram pages, and on Twitter @Kia.
About Kia Motors America
Kia Motors America (KMA) is the marketing and distribution arm of Kia Motors Corporation based in Seoul, South Korea, and in 2014 was the #1 ranked mainstream brand according to Strategic Vision's Total Quality Index. KMA proudly serves as the "Official Automotive Partner" of the NBA and LPGA and set an all-time annual sales record in 2014, surpassing the 500,000 unit mark for the third consecutive year. KMA offers a complete line of vehicles, including the rear-drive K9001 flagship sedan, Cadenza premium sedan, Sorento CUV, Soul urban passenger vehicle, Soul Electric Vehicle2, Sportage compact CUV, Optima midsize sedan, Optima Hybrid, the Forte compact sedan, Forte5 and Forte Koup, Rio and Rio 5-door subcompacts and the Sedona midsize multi-purpose vehicle, through a network of more than 765 dealers across the United States. Kia's U.S. manufacturing plant in West Point, Georgia, builds the Optima* and Sorento* and is responsible for the creation of more than 14,000 plant and supplier jobs.
Information about KMA and its full vehicle line-up is available at www.kia.com. For media information, including photography, visit www.kiamedia.com. To receive custom email notifications for press releases the moment they are published, subscribe at www.kiamedia.com/us/en/newsalert.
* The Sorento and Optima GDI (EX, SX & Limited and certain LX Trims only) are assembled in the United States from U.S. and globally sourced parts
1 2015 K900 V8 available in select trims and in select markets with limited availability.
2 2015 Soul EV in select markets with limited availability.
Photo - http://photos.prnewswire.com/prnh/20150623/225244
SOURCE Kia Motors America